University College Cork (UCC) seeks an outstanding appointee for the full-time permanent position of Professor of Music to lead research in music, contribute to UCC Music's national and international profile, and play a critical role in attracting external research funding. The appointee will assume a leadership role in the further development of undergraduate and postgraduate programmes within the discipline.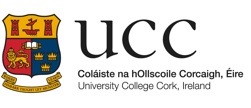 The staff complement of Music comprises scholars, composers, improvisers, and performers, presenting a symbiosis of music scholarship, composition, and performance to an extent unique in Ireland. The Department embraces multiple disciplines including musicology, ethnomusicology, anthropology of music, critical studies, cultural studies, gender and sexuality studies, film studies, performance studies, composition and music technology.
A model music department of the 21st century, the Department has an ethos that is centred on the understanding that all kinds of music are equally worthy of study and performance. As such, the Department delivers a diverse research-led curriculum. Music's research achievements show excellence at national and international levels, particularly in the areas of composition, ethnomusicology including Irish traditional music, historical and critical musicology. The appointee will be expected to play a pivotal academic leadership role in further developing the strengths of the department and to be an effective contributor to undergraduate and postgraduate teaching, doctoral supervision and administrative elements of the School. The appointee will be expected to act as Head of Department/School.
The appointee will have a doctorate in Music or a cognate subject or equivalent evidence of a scholarly reputation of international standing in Music. A significant track-record of sustained internationally published research (or equivalent in composition) is required along with a proven record of seeking and obtaining substantial funding for research. S/he will have the requisite communication, management, administrative and leadership skills to manage an active and developing department.
Salary Scale : €113,604 – €145,953
For informal discussion, contact:
Dr. Melanie Marshall
School of Music and Theatre
+353 21 4904629
Ml.Marshall@ucc.ie
Website: http://www.music.ucc.ie/
For further information and application materials, see: http://www.ucc.ie/en/hr/vacancies/academic/
Completed application forms must reach the Recruitment Office, Department of Human Resources, University College Cork, Ireland, before 12pm on Friday, 8th April 2011.
Email: recruitment@per.ucc.ie
Tel: + 353 21 4903073 / Fax: + 353 21 4271568
Closing date: 8 April 2011