New journal issue
'Erotic Screen & Sound'
A special edition of Continuum: Journal of Media and Cultural Studies 26(4)
Edited by Jodie Taylor and David Baker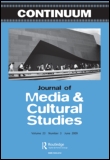 Sexual desire and the intent to arouse—the erotic—is ubiquitous. Erotic impulses preoccupy our psyches, shape our identities, inscribe our bodies and mediate our relationships with others and objects. Proliferating into the banal everydayness of contemporary life, we find inscriptions of the erotic in the back corner of our local news agency, online, on stage, screens, airwaves, billboards, supermarket shelves, and on gallery walls. A public, private and often highly politicised concern, few subjects are as simultaneously commonplace and controversial as the erotic. Whatever its form—sacred, profane, ordinary, perverse, vanilla or kinky—the erotic has persisted in its ability to delight, entertain, panic and outrage us throughout history and across cultures.
The collection of articles that comprise this special edition of Continuum has its origins in a conference on 'Erotic Screen and Sound: Culture, Media and Desire' convened by Jodie Taylor and David Baker at Griffith University in 2011. The theme of this conference invited submissions on the ways the erotic is represented, aestheticised, encountered, mediated and embodied in and through historic and contemporary cultural forms and practices. The essays in this collection address, examine, theorise and historicise the erotic in relation to cinema, television, music, visual arts, cultural performance and ritual.