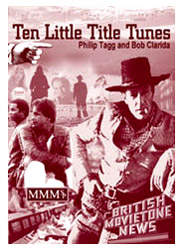 In keeping with its audiovisual subject matter, Tagg and Clarida's Ten Little Title Tunes (henceforth TLTT) is a study of epic proportions. The book is best viewed as an extension of Tagg's influential study on the theme music to Kojak, and of three decades of honing a musicology of the mass media that has justifiably received widespread acclaim, often intermingled with pointed criticism, from peers. Tagg's trademark World-in-a-grain-of-sand approach is deftly applied in each of the case studies that comprise TLTT, although the authors, somewhat bewilderingly to this reader, apologise for not living up to their own rigorous standards in all of the chapters that comprise this more than 900-page magnum opus (p. ix).

The study revolves around responses to nine title tunes extracted from films and television series known to the authors at the time when the empirical tests were conducted (1979-85). A tenth, Deep Purple's 'Owed to 'g,'' is referred to as "the joker of the test battery" (p. 617) since it has never to the authors' knowledge been used in audiovisual contexts but was included because it contains musical elements thought likely to stimulate visual-associative thinking. The tunes were played without the accompanying visual material to hundreds of respondents (the number varies among the tunes; from 105 to 607) in tests conducted in three countries (mostly Sweden). An exercise in associative thinking, the test required respondents to envisage visual settings for the music they were hearing. So as to evince immediate, uncontrived responses, listeners were allowed only a short period of time to record their responses (p. 118). Once gathered, the data were subjected to rigorous statistical analysis, the findings of wich were then used as a springboard for the authors' detailed musical interpretations.

The methods employed in the analytical/interpretative sections of the study will be familiar to those who know Tagg's previous work, involving the elucidation of musical conventions by means of the analyst's invocation of a weighty corpus of what he calls interobjective comparison material (IOCM). The ingenuity of this method has been commented on before; as has its apparent unwieldiness (see critiques by Walser and Middleton). Looking beyond the peculiarities of Tagg's conceptual apparatus, what is implied here is essentially the "good hermeneutical practice" of tracing genealogical ties between musical performances (analysis object, or AO) and formally (or "objectively") similar antecedents (IOCM); and then taking the significant next step of relating discursive formations (paramusical fields of connotation, or PMFC) coupled with these musical intertexts back to the primary musical texts. In this elegant, if occasionally laborious, fashion, Tagg sheds light on the myriad ways in which the semiotic encoding of musical materials (musical semiosis) arises. Criticism of this method has typically focused on the emphasis placed on musical texts and their interrelations, with some popular musicologists arguing for closer attention to the specific contexts of musical performance and broader cultural considerations.

In this study, the Taggian method is extended in one significant respect. The starting point for all of the interpretations are the numerous written responses to the tunes collected in the empirical section of the study. This latest move towards empirical justification might have readers whose interests lie elsewhere ("empiriphobes"?) shuffling, or even squirming, in their seats (while perhaps shouting counter-claims of empiriphilia). Insofar as the combination of methods employed here might be considered normative or even prescriptive, discomfort is justified. It is unreasonable to expect future researchers to emulate every aspect of such a complex, multifaceted study. Further, in relation to many forms of musicological research, statistical analysis of empirical data pertaining to reception is often not possible (e.g., historical research), practical (e.g., small-scale research projects), or even useful (e.g., studies where the emphasis is theoretical or analytical).

Notwithstanding these concerns, there is little doubt that the empirical aspect of this study constitutes a major contribution to research in this area. The years leading up to the publication of this monograph have been characterised by an initial emphasis on what Nattiez calls poetic (or production-centred) discourse within film music studies, leading to a preponderance of biographical or practical writing (instruction manuals for aspiring composers). Recent years have seen a turn towards theoretical and analytical/interpretative work, incorporating influences from musicology as well as cultural and media studies. Much has been achieved in this body of work. What has to some extent been lacking is sufficient empirical data to back up theoretical and analytical/interpretative claims. Tagg and Clarida's study goes some way towards redressing this imbalance. It is of immeasurable value when teaching undergraduate courses on music and visual media to be able to say to students (after conducting small-scale surveys on the groups in question), "this is how you lot heard the music." If such assertions can be backed up by the findings of extensive studies on reception such as this, better still.

Notably, the findings of TLTT do not contradict the existing research on music and the moving image. Gender (and other cultural) stereotypes are, on the basis of this evidence, every bit as prevalent as was feared, as demonstrated in the final chapter of the book, "So what? Title tune gender and ideology," which benefits greatly from Anahid Kassabian's input. Music in visual contexts is, as was suspected, remarkable with respect to its narrative and semantic specificity—even that heard during the opening credits of a film or television series. And music heard in both audio and audiovisual contexts is, demonstrably, highly mediated, serving as an effective conduit for a wide range of ideological "messages," which listeners unable to come to grips with its implicit meanings are ill-equipped to resist. The extent of the overlap between these findings and those of recent research suggests that it would be unwise to advocate the total abandonment of existing methodologies. Despite the revolutionary rhetoric of this study—most notably, Tagg and Clarida's call for a brave new musicology of the mass media—its central findings do not challenge, in a pejorative sense, but rather validate while advancing existing research.

TLTT's second and arguably most significant contribution to research on music and visual media is in the wealth of material offered in the ten case studies. Chapters one and two provide a cogent and lucidly written rationale for the authors' project; most notably, in the first chapter's eloquent argument against musical absolutism. It is easy to sympathise with the authors' concern to bring studies on musical signification further into the circle of writing on popular music. It is less easy to understand their crusade against the oxymoronic "pomo-rockology," as represented by journalistic writers such as Reynolds, Toop and Savage, as somehow allied to this objective. Chapter three offers possibly the most accessible introduction to Tagg's method in print but is necessary reading only to those unfamiliar with his earlier work. Whatever one makes of these early chapters, there can be little doubt that the manna of the book is in its second part; detailed case studies ranging from Emmerdale Farm, Monty Python's Flying Circus, Romeo and Juliet, A Streetcar Named 'Desire' and the Virginian to Miami Vice offer students and researchers alike a veritable goldmine of material. The authors state that the book is not meant to be read cover to cover (p. xvi). Its real value, I would agree, is as a reference work. When a student next asks for background material on the themes to sports programmes (as happened to me recently), musical representations of the pastoral in television, or the association of Fender guitars with cowboys and spies, it will be easy to refer them to relevant chapters in TLTT. As a researcher, when pondering further the association of flatted fifths in minor-key jazz with social depravity, of rippling piano arpeggios with water, of telegraphic rhythmic phrases with news and current affairs, or of mellifluous undulating melodies with conventional representations of femininity, Tagg and Clarida's painstaking research is an excellent place to start.

TLTT cannot be all things to all people. Genres from science fiction to situational comedy are omitted, and there is a definite need to update these findings with complementary research on more contemporary examples. There is, moreover, a need to marry an interest in musical intertextuality with more detailed attention to the empirical reality of audiovisual performance. More urgently, the scope of this project should be extended to include non-diegetic music heard once the title tunes are over, lest too much of an emphasis be placed on music that complies most fully with the requirements of absolutists. The above comments should not be viewed as criticism of this particular study, but rather as a challenge for future research. In many ways, TLTT is what you would expect from a major new study overseen by a luminary of popular musicology. Erudite and impressive, TLTT should be included in any bibliography on music and visual media in the field of popular musicology.