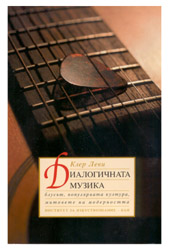 Looking into Clair Levy's book is both uplifting and frustrating for those of us who don't read Bulgarian. This review, unfortunately, cannot but rely on the English language summary and the sources listed in the bibliography.

Levy offers what seems like a fascinating discussion of blues located in the broad theoretical frameworks of modernity, "musicking", and dialogism. Her book is also the first to apply the blues idiom as modernity's "Other" to Balkan music styles and contexts, which has particular pertinence to the entire phenomenon of world music. From Bartók to Kant, from Rousseau to Adorno, from Philip Tagg to Nelson George and Tim Rice, Levy has drawn on a wide array of philosophical, sociological, musicological and ethnomusicological theories and approaches to make sense of the staggeringly diverse and wide-ranging uses of the African American tradition in the global music scene of the 20th century.

Part One lays out a framework in which the blues is seen as a "general metaphor that can enlighten the understanding of a variety of modern blues-derived musical developments." Part Two looks at blues as seminal to such larger streams as jazz, rock and hip hop, all of which produced not only musical but life-style alternatives, too, to hegemonic culture. Levy explores how these alternative forms played out in the Bulgarian context in regard to local subjectivities and vernacular traditions. Of particular interest is Part Three where Levy challenges the notion of world music as merely a marketing category. She argues that world music is the product and emblem of "small narratives" fed by a variety of ethnic music cultures. Relying on Levy's English language papers, I assume that she treats the intriguing pan-Balkan music style "chalga" as a paradoxical form of regional cultural identity in that it's dismissed by local elites from a Eurocentric position, while embraced by "ordinary people" as a unique hybrid of global and indigenous, contemporary and old idioms.

While I hope that this book will be available in the near future to a far wider readership than the present one, it is, in and of itself, a very welcome addition to the increasingly cross-cultural, theoretically informed, and nuanced study of blues and its impact on the fast-paced and dramatic developments in popular music in 20th century and beyond.